HOW MANY PLANTS DO YOU PLANT EACH YEAR
This question I think is the most frequent, and people are always amazed when they are told that in the Summer we plant around 3,000 and in the Autumn the number is around 2,500 as not all the sites are planted in the Autumn. However the annual cost of plants is £2,500.00.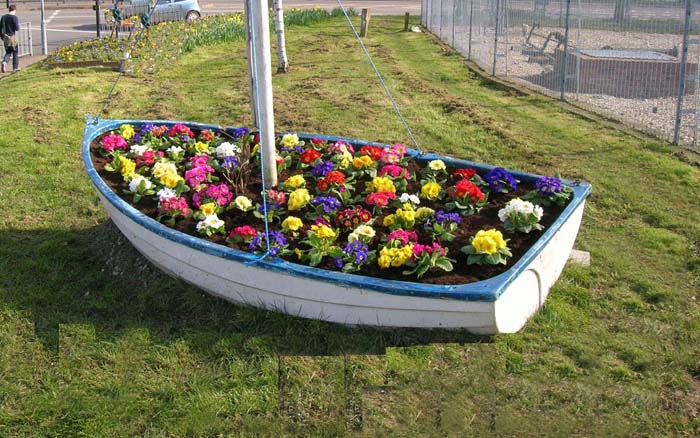 WHEN DO YOU WORK
As a general rule, we work every Tuesday morning. Starting times vary from 9.30am in the summer time to 10am in the colder weather. Finishing is normally 12 pm, but if you need to finish earlier that is not a problem.
When we do the twice yearly planting we look to be working every day. We normally allow two weeks to cover ourselves against bad weather, but in practice we mostly only need one. The spring planting is the first week in June and the autumn planting is the first week in October. We do ask that you are available for the two main planting times Sometimes we go out at other times by arrangement. Whatever is needed really.
WHAT ABOUT EQUIPMENT
You will be asked to provide your own trowel, fork, kneeling mat and gardening gloves. You will be provided with two Hi-Vis jackets. One as a tab-bard and one with full length sleeves for colder weather. All other equipment we provide as necessary.
DO YOU HAVE A HEALTH AND SAFETY POLICY.
We certainly do. When you join us you will be given a sheet with all the details of what we consider necessary to keep everyone safe.
HOW DO YOU RAISE MONEY
We do need to raise some finances, and therefore we have a Coffee Morning every summer time, and a  town Collection during June. We also have nearly all our sites sponsored by local people and organisations We are also in receipt of a grant from North Walsham Town Council.
WHERE DO THE PLANTS COME FROM
Most of the plants come from Edgefield Nursery near Holt and are delivered to us as and when we require them.
HOW WILL I KNOW WHERE TO GO
When you become one of our helpers your name, telephone numbers, address and email details will be added to our list.  You will normally be contacted on a Sunday evening by email and advised where we will be meeting the following Tuesday. We normally meet in groups of two to four depending on the size of the area to be worked on. Sometimes if we are working on one of our large areas everyone will be there.
HOW MANY HELPERS DO YOU HAVE
We seem to have a very stable membership of around 15 with 7 of those also being on the committee. There is a brilliant atmosphere in the group, helped in no small part by the three 'lunches' we normally have each year. We always have a Christmas lunch, and two after planting lunches where we can review how everything went and discuss any improvements anybody has to offer. There is also a free raffle at all these events.
GIVING ADVICE
We very often get asked for advice, and several of our helpers are very experienced and always very happy to discuss all sorts of gardening problems with them.